Generally, architectural design is the art behind the design of buildings and structures. It describes the physical aspect of a building, the construction method and the unifying aspects of a structure. The main purpose of architectural design is to bring different components together into a whole functional building despite the given limitations.
Architectural design is considered one of the best ways or practices of planning and designing different buildings following a specific style. An architect, in this case, implements different styles or designs to match the needs of a client. It is a comprehensive process that involves thorough planning, designing and construction of a building.
---
---
When designing a building, there are different architectural designs that an architect can follow. The designs have been used over a long haul because they are aesthetically appealing. As a prospective home or building owner, you can decide to choose traditional and modern architectural designs.
1. Modernist


Photo © David Hawgood (cc-by-sa/2.0)
The modernist architectural design assumes a simple design aspect based on the overall use of a building or property. Today, a wide range of commercial buildings assume a common modernist design in the UK. It includes unique styles such as New Classical, Post Modern and Futurism. It is a design that takes every aspect seriously but at the same time focusing on simplicity.
The materials used on modernist architectural designs are rather concealing.
Features
Involves the use of modern materials that lack decorative appeal.
Used mainly in low buildings.
Exterior and interior spaces are made of shading and sun materials that help to enhance human comfort, and let in natural light.
2. Romanesque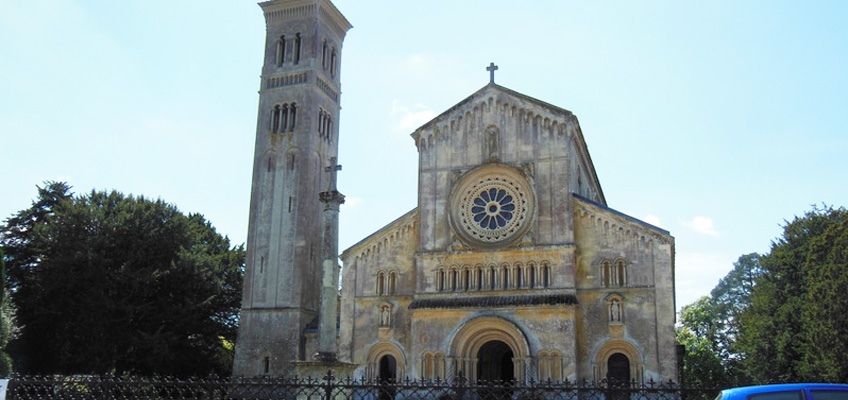 Photo © Ian S (cc-by-sa/2.0)
Romanesque is a modern form of architecture that is quite popular in medieval Europe. However, it has been adopted across different parts of the globe thanks to its circular and gothic style that makes the primary basis of this design.
Features
Rounded arches, floral styles, cable mouldings around the doors of a building and with a twisted rope.
3. Art Deco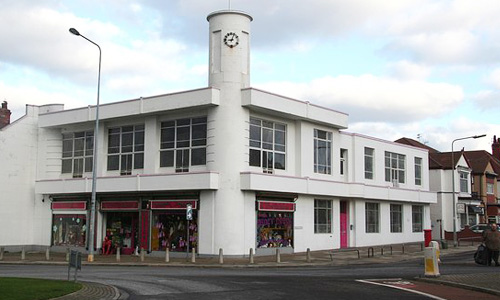 Richard Croft / Art Deco Cleethorpes, via Wikimedia Commons
Art deco is another highly personified architectural design with an amazing decorative effect. It became quite popular in the 1920s through 1930s and to date, it is still loved for its majestic features.
4. Victorian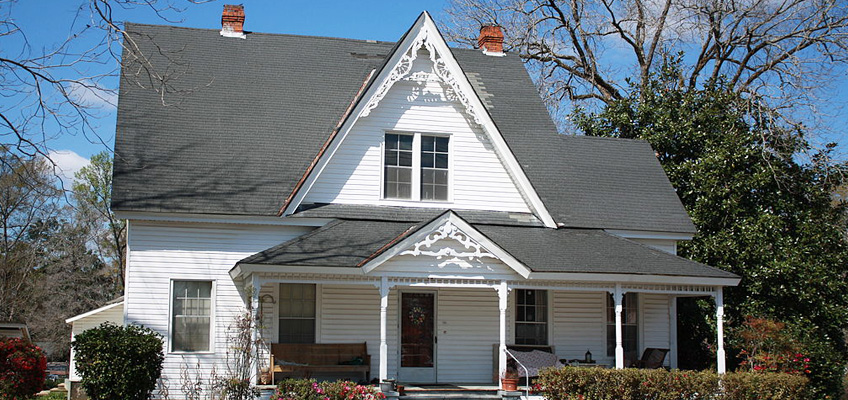 Jeff Reed (Altairisfar) [CC BY-SA 3.0 us], via Wikimedia Commons
Victorian architecture is quite popular in England since the reign of Queen Victoria. It is a design that employs a unique combination of wood, sandstone and brick to produce a flourishing design with highly elaborate dormers.
Features
Its features include bay and sash windows, a wraparound porches, a Dollhouse effect with very elaborate trim and bright colours.
5. Baroque


Image by Pwojdacz at the Wikipedia
Baroque design traces is the origin to Italy in the late 16th century. It takes after the formal Romanesque architectural design, but it aims at appealing more to the senses and likes of different generations.
Features
Paired columns, broken pediments, a cresting of ornaments as well as concave and convex walls.
6. Tudor style

Tudor style is one of the designs that has come a long way from the medieval ages in England. The design is also known as the Four Centred Arch is quite beautiful with a distinguishing or defining feature that you can easily relate with the Tudor era of timber-framed buildings.
Features
Casement windows, very elaborate doorways, a thatched roof and masonry chimneys.
7. Neoclassical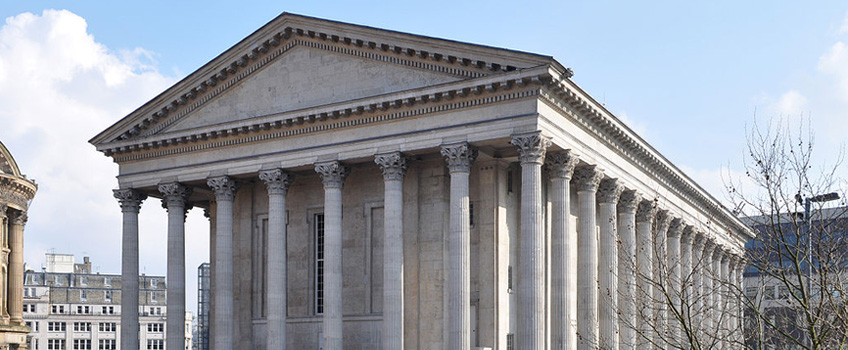 Very Quiet [CC BY-SA 2.0], via Wikimedia Commons
Neoclassical is a design that aimed at restoring the grandeur and nobility to the world of architecture. It came into light in the 18th century and as a response to Baroque design. It draws its inspiration from Roman buildings and conventional elegances of the ancient Greek. The symmetry and simplicity of neoclassic architecture design are one of the features that makes it exceptional.
Features
Grandeur and noble, has free-standing columns, clean lines, large buildings and blank walls.
8. Bauhaus
Bauhaus is a design that features art and technology under one simple idea and mass production. The design favours the functionality of a building while assuming the decorative details. Cubic shapes, angles and flat roofs are some of the key features of this design. It is also a modernist architectural design that has been adopted across different parts of the globe.
Features
Often, primary colours are used including blue, red and yellow, an open floor plan, glass curtain walls and steel frames.
9. Gothic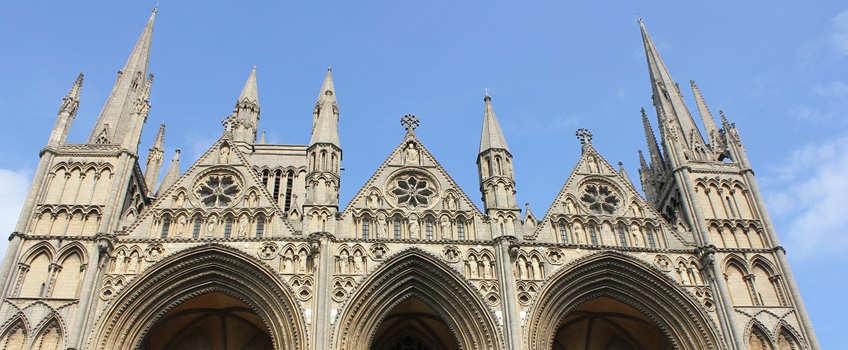 Gothic architecture has been quite popular since the 12th century. It borrows features from different designs including classical options. The beauty of Gothic is that it is more decorative, it has windows that are well adorned with quality stained glass, and is tailored to draw attention. The walls of this design are however thinner.
Features
It includes pointed arches, height and grandeur, airy buildings and vaulted ceilings.
10. Renaissance Style
Renaissance architectural design became quite popular in Italy in the 15th century. It is a design that blends different features to bring about strength, harmony and clarity in a building. The style has a way of reflecting ideals of traditional and modern life, elegance and clues from Roman ruins.
Features
Arches and domes, flat ceilings, enclosed courtyards, square buildings, classical motifs, vaulted bays and Roman type columns.
Factors to Consider
Ideally, understanding these architectural designs helps you to settle for what meets your needs best when working on a commercial or residential property. However, when choosing an architectural design for your project, there are a number of factors to keep in mind. They include:
Always choose a beautiful design. The aesthetics of good design include the types of materials used, the quality, forms and overall style. In order to capture the attention of buyers, family members or any observer, you need to get an excellent design. This is particularly important for a commercial project.
A good building functions as desired and this starts from the overall design. Therefore, focus on the purpose of a building and choose the most ideal design.
It is always imperative that you work on a building that can withstand wear and tear elements over a long haul. Settle for an architectural design that can stand the test of time. Remember, the stability of your project is carefully calculated, designed and professionally enforced by a structural engineer.
A good architectural design needs to be highly sustainable to reduce possible environmental effects of buildings. This is through moderation and efficient use of energy, quality materials, ecosystem development space and money.
The quality of design should also be simple and with no complicated forms. Simplicity in design generally means something that offers the best feeling for everyone right from the architect to the constructor.
Phases of Architectural Design
That being said, you also need to know the different phases of architectural design. There are 5 important phases that include;
1. Schematic Design
This is a crucial phase where an architect collects vital information from you. The information includes your design and style needs. This is collected through field surveys based on the design options you prefer. Generally, the options are presented in the form of a sketch or sketches so that you can visualize your project. It also helps you to understand the course that your project will take.
2. Design Development
Design development is an integral second part of architectural design. This is where the plan you chose from schematic design, possible modifications and other adjustments will be considered. A professional architect at this stage offers an estimate of the design based on the changes that will be made on your initial design.
An architect will focus on your budget and strive to work on an overall design that will fit in your estimate. This stage is more of a give and takes agreement as an architect finalizes your design details.
3. Construction Documents
After finalizing your design details, an architectural designer will prepare your construction documents. This includes all essential notes, drawings and technical specifications for construction, bidding and application of your permit. It is the stage that involves the creation of your blueprints.
Remember, a contractor will always use your construction documents when working on your project. Therefore, it is important that all drawing details and specifications are correct for a smooth architectural design process.
4. The Bidding Process
With an architectural designer on your side, you can progress to the bidding phase. This is important for quality home construction and it is usually beneficial to you. To get the best deal, make a list of potential contractors and submit your bid to them. Your bid will be reviewed and a clear analysis based on the cost will be provided to you.
When submitting your bid, you need to consider contractors who are experienced in handling similar construction projects. This will enhance your chances of getting a contractor that will interpret your blueprint accurately and provide a realistic budget.
5. The Construction Administration Phase
Once you get the right contractor, it is time to proceed to the construction administration phase. This is the fifth and final phase of the architectural design process. This is where the actual construction process begins with a site visit as well as an address to any condition that may hinder the construction process.
These architectural design phases are very crucial. They help to ensure that you work on a smooth and satisfactory process of building a home of your choice or a quality project renovation. For expert and trusted architectural design and planning services, contact Architectural Design & Plan Essex.
---